Before I begin my post for today, I'm going to make three announcements:
1. Tonight I've been busy with babysitting and homework, so I'm pushing back my third installment of my Serial Novel until Sunday night.
2. April 17 marks the three-month anniversary of this blog. It has far surpassed my expectations, so I will be making a special post on Tuesday night where I will answer some questions about me. They can be about who I am, the blog, my writing...anything, really. The only condition is that I need
you
to post some questions in the comments of this post and I will answer them all on Tuesday. Don't feel like asking a question? Leave a writing prompt instead and I will hit that sometime in the next week or two (time permitting).
3. I am considering making a transition from Blogger to WordPress in the near future. At some point, once I have things in a format I like over there, I will provide a link to the future site and post on both for 2-3 weeks before I make the move for good. Any tips about WordPress are welcome!
----------
Almost a week ago my fiancee and I decided to bring a child into our home. Her cousin has been rehabilitating from a surgery and there is no telling how soon she'll be able to take care of her three children. Prior to Saturday the extent of our help in all of this was praying for them and visiting a few times during the week. We agreed to watch her six-month old boy, Michael, for a night. It is almost a week later and he is still here.
He is such a happy, smiling boy. It is impossible not to fall in love with him almost immediately. He is a lot of fun to have around in spite of our busy (and unusual) schedules. We've found ways to juggle things adequately enough to continue our activities like normal. But I have to confess that it is tough going from no baby to having one around without much notice or time to mentally (and emotionally) prepare for the task.
A few weeks ago my fiancee signed up to attend a women's function at our church with one of her friends. That meant she would be away all evening, leaving me alone with Michael at home. It has been years since I've watched a baby for any amount of time. Being alone with him for hours tonight was, on some level, a scary thought. But I mustered enough courage to encourage her to go anyway.
So we've enjoyed guys' night tonight. We played on the floor and in his walker. We had Avatar: The Last Airbender playing in the background, which is a fitting cartoon for the guys' night. We've danced and sang and tickled. We've pet the cats (one of them finally warmed up to him enough tonight to let him pet her. She did good, even when he grabbed a handful of fur) and had raspberries blown on his tummy. He had a bath and got ready for bed. He got his nightly dose of Albuterol with the respiration machine. Many nights he screams and fights that. Not tonight.
Tonight he fell asleep during it. He was so tired that he stayed asleep when I set him down in the car seat long enough to make his bottle. He has been sleeping sound for almost two hours no. This was, by far, the easiest night for getting him to sleep.
Maybe we just played too hard and had too much fun for him to stay awake and fight his sleep. We enjoyed getting to bond tonight. I love this baby and now I can't wait for us to have some of our own filling up our house.
Maybe we should have guys' night more often. I think he'd like that. What do you think?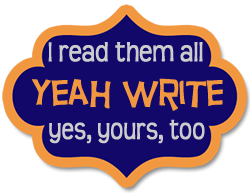 Entering this post in Yeah Write #53 this week. Stop by and check out all the awesome blogs. I'm sure you'll find at least one you like.